Original paper postcard
You will ask why this postcard is needed? Now photographers practically do not print photos on paper, they are poured onto a USB flash drive or disk. That's just for storing such a wedding disk and need this card.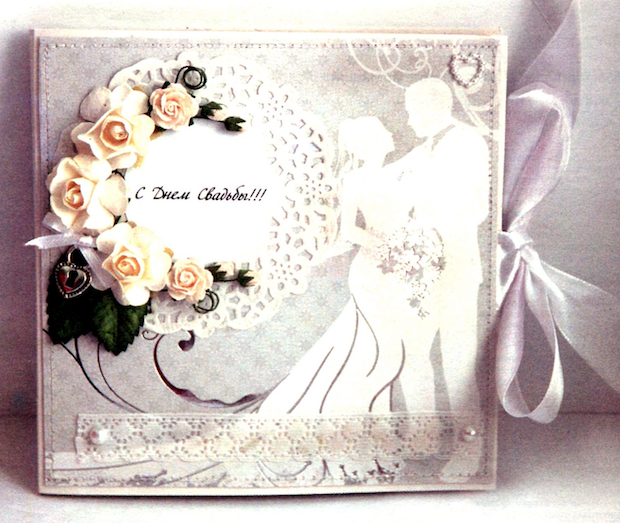 You will need: beige colored cardboard of size 28.5 x 20.5 cm, decorative paper 14 x 14 cm 2 pcs., decorative paper 13.5 x 5.5 cm, piece of decorative tape 25 cm long, metal decorations, lace, decorative flowers, leaves, round inscription "Happy Wedding!". Fold a sheet of cardboard in half turned out blank. Unfold it, below measure the strip in the size of 6 cm. On the right side of the card, bend the strip 6 cm inside, and cut with the left.
Paper is a very good material for needlework. There are two significant advantages - low cost and ease of use. Thanks to this, origami has gained popularity around the world. Origami modular schemes - one of the master classes, which is worth seeing and trying to do yourself.
Glue the lower right side to the base to make a pocket.Now take a 25 cm long ribbon and cut it in half. Glue it to the front and back of the postcard turned out strings.
Stick decorative backgrounds. On the front of the postcard, paste the inscription "Happy Wedding!", Decorate it with a wreath of leaves and flowers. Bottom glue a strip of lace. Decorate the inside of the postcard-envelope with a flower.
The postcard envelope is ready.
Such a postcard-envelope will be a wonderful gift for the newlyweds. And you can keep your wedding photos in such a wonderful package.
Related News
Beautiful skin of the face - reality or dream
Leatherette Keychain
Little White House in the forests of Sweden
Booktop coffee table
New Year Card
What to buy in the spring, not to be like everyone else